[GOODAL] Vegan Rice Milk Moisturizing Cream
Customer Reviews
11/04/2022
Maria E.

Peru
Best yet!
This is the best skin and neck cream so far that I have ever used. My neck is the smoothest it has ever been.
Nourishing yet Lightweight! Great for barrier repair!
Lately, I've been suffering from flaky skin & this duo has been a big help in relieving the thirst of my skin as they were able to leave a long-lasting well-moisturized finish. W/ Aqua Ceramide & Vegan Rice Milk™(Sandui Rice) in both, they are a great reco for those w/ damaged/weakened skin barrier as they can leave one's skin feeling deeply moisturized w/o any greasiness/tackiness. 70mL PAO:12M As the -ber mos. begin, the sweater weather makes my skin crave for more moisture! Stored in an eco-friendly sugarcane paper tube (58% less plastic), it has a slightly thick white creamy texture w/ a subtle milky-to-rice-like scent. Application-wise, I like how this blends seamlessly onto my skin & is fast to be absorbed leaving behind a soft smooth finish. Though it may feel daunting at first as it may look thick for oily skin, this still felt lightweight yet has a hint of nourishment & occlusivity w/o feeling like my pores were being clogged. I feel like this was able to provide just the right amount of nourishment to my skin. This is great to use during exfoliating/retinol routine as I feel like this ensured that my skin remained well-moisturized by preventing TEWL from happening as it has Trehalose in it. Overall, a lovely nourishing yet lightweight moisturizing cream to strengthen/repair one's skin moisture barrier! Swipe for more! ☺️
Thank you ClubClio for the fast delivery! The products were all packed nicely and safely too. I love all the products I got and I'm sure I'll be using them a lot in the future. I got a bunch of makeup and some skincare products. And you know what, I just wished I bought a bigger version of this moisturizing cream. It's so nice on the skin and it does its job! I use this everyday and now it's almost out. I highly recommend this shop for makeup and skincare lovers as their products are always atop of the quality!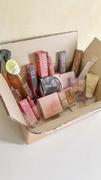 Now you can purchase your new goodies right here from our CLUB CLIO SHOP