[CLIO] Kill Cover Founwear Cushion All New Set (+Refill)
Customer Reviews
11/26/2022
ANABELL O.

Peru
cómodo
es super cómodo y rápido para usar y tiene buena cobertura
Llegó muy rápido!
Recibí mis productos más rápido de lo que imaginaba. Llegaron en buen estado gracias al empaque cuidadoso. El tono que escogí es más claro de lo que muestran en la web pero lo asumo como error mío pues no consideré la diferencia de tez entre asiáticas y latinas, tengan en cuenta eso y elijan los tonos más oscuros. Aún así estoy contenta con mi experiencia Clio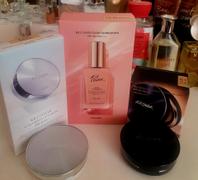 10/25/2022
Emily W.

United Kingdom
best essential
Love it so much!! Easily blended on my skin ✨
Shipped safely and got everything well!
Everything arrived safely and the products look great so far! I'm not sure if the foundation is my color yet, but it looks to be alright so far! Thanks again to Clio for the freebies as well!
Now you can purchase your new goodies right here from our CLUB CLIO SHOP